Russian businesses and enterprises in Canada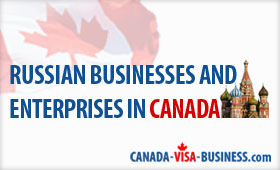 The increasing number of business trips from Russia to Canada in recent years is due to flourishing business and trade relations. Trade with Russia increases continuously according to the latest statistics of 2006, reaching close to 1 billion $. Construction Daniel Dargis Inc. and MontrealCIE Montreal Business Centre help these Russian businessmen and companies to settle in Quebec in the fields of construction (products and services), real-estate projects and renewable energy. The major advantage of using Construction Daniel Dargis Inc is that our team works closely with specialists and lawyers in matters of immigration, in construction and business law in addition to providing full support from A to Z in matters of building in Quebec, thus providing a legal support in addition to a practical support on the ground.
There is little information and statistics available on Russian investments in Quebec construction and real-estate projects. But in 2012 more than 50,000 Russian-speakers live in Montreal only. This community is active in the business community. In recent years wealthy Russian businessmen have been very active in the field of real-estate investments in France, in the rest of Europe and even in Africa, buying large tracts of land. With economic shocks that have shaken many countries in the world except the Quebec real-estate field we can expect that more and more Russians will choose to invest in Quebec in the coming years.
Construction Daniel Dargis Inc. offers, with the support of experts in immigration and business law in Canada, tailor-made formulas based on temporary employment and business arrangements to help Russian entrepreneurs to settle with their families in Canada and to access immigration but without guarantee. Here is some information from the Canadian Government for:
Temporary workers;
Business visitors.
Finally, let us note that for businesses, real-estate investors and developers of construction projects, Montreal and the Province of Quebec as a whole are full of opportunities to buy large portions of land at low cost for the construction of real- estate projects and buildings converted into condominiums or commercial buildings. For foreigners, the Montreal surroundings are bargains. They look at the possibilities and cannot believe their eyes. Quebecers sell hectares of land at 7 $ per square foot or about $ 70/m². This is about 10 times cheaper than in Vancouver or Paris!
Construction Daniel Dargis Inc. helps business people who wish to realize real-estate projects in Montreal and surroundings as well as companies that wish to establish an office, a warehouse or a processing or manufacturing factory in order to reach consumers across Canada and North America.
Construction Daniel Dargis Inc. is the only Canadian and Quebec construction company with more than 20 years of experience in construction, renovation and management of residential, commercial and industrial projects that can structure and direct part of its activities specifically to help business people to create, operate and run their own Canadian business related to the construction industry. With its rich experience, Construction Daniel Dargis Inc. serves as a guide from training through research of land for construction and buildings to convert, and then offering several business solutions for construction and renovation projects, and finally as a support for sales.
Do not hesitate to contact us!