India to Canada Business Establishment Invest Services Immigration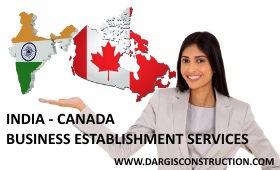 Construction Daniel Dargis Inc. is a construction, engineering, architectural, design and business assistance company that provides wide ranges of services for local Canadian individuals and companies as well as for foreign business investors and companies that wish to do business and/or have access to immigration in Canada.

The services provided are listed on the 15 websites of our business network in Canada for Indian business people. See the section of the menu ABOUT US to see the list of the websites.

Additional services are offered to foreign investors in order to bring them at the level of the local experienced Canadian companies and investors. Therefore, the foreign investors can, afterwards, make their own decisions, start a, and do business in Canada.

Here is a draft of the basic steps of service assistance and fees addressed to the foreign investors in Canada by Construction Daniel Dargis Inc.
Duration : Unlimited duration business assistance program
Location : Head office in Montreal, Canada and a representative in Mumbai, India
Schedule : 7 :30 am – 5pm or 5pm – 11 :30pm
Interns and business professionals capacity : a 100 per day
STEP 1 – CONSULTATION from Canada :
Consultation from abroad through e-mails, video-conference calls or phone calls, including:

Answers to the questions of foreign investors and general business information about the local Canadian market ;
Questionnaire submitted to the investors about their needs, objectives, experience, investment capital and other topics in order to guide them in the right direction in Canada and provide them a better understanding of the Canadian possibilities ;
After having obtained a better understanding of the investor profile, start introducing them to other Canadian specialists, such as: lawyers, banking advisors, potential business partners ;
Search of land, buildings, rental places or other business opportunities ;
Once a real-estate location is found, work on drafts and sketches of Canadian real- estate projects for the Indian investors including feasibility projects and approximate budgets ;
Organize business trips to Canada with a program of business assistance in the Construction Daniel Dargis Inc. office in Montreal, Canada. It is possible as well to organize business tours to Toronto and other Canadian cities for additional fees ;
INNOVATION India-Canada business search services: VIDEO ONLINE LIVE visits, excursions, and tours of cities in CANADA: Montreal-Toronto-Calgary-Edmonton-Vancouver in order to find PROPERTIES, INVESTMENT OPPORTUNITIES, and MEET Canadian BUSINESS PEOPLE and COMPANIES. Done by a Canadian Expert in Business ;
FEES:
$350.00 US/hour. All hourly fees are payable, in advance as retainer fees, in blocks of 5 hours minimum, through banking transfer, $1,750.00 US without taxes for foreign clients ;
Additional fees for traveling from Montreal toward other cities and for finding the required information.


STEP 2 – BUSINESS VISIT in Canada :
Visit to and business assistance in the office of Construction Daniel Dargis Inc. in Montreal, Canada, including:

Observation sessions of a Canadian construction engineering company in action:

Reception of calls and requests from the clients ;
The way the marketing is done in Canada ;
The importance of knowing English and French, how to get the local operational building licences and what to do, how to do it and who to meet in order to create a Canadian company.

Visit land, buildings and meet the clients or business contacts previously found before the arrival ;
The privilege of using their own office temporarily, inside the first-of-its-kind Construction Business Centre in Canada created by Construction Daniel Dargis Inc. in Montreal, with access to many conference rooms and a network of business contacts in Canada;
Many other customized services during the business trip.
FEES:
$1,000.00 US/day. All daily fees are payable, in advance, as retainer fees, in blocks of 5 days minimum, through banking transfer, which represents a minimum of $5,000.00 US without taxes for foreign clients ;
Extra fees for a local Canadian-Indian interpreter starting at $500.00 US/day.
STEP 3 – The BUSINESS PLAN :
Before, during or after the business trip, the assistance for developing a business plan which will be useful and required in order to submit a request to the Canadian government for starting and doing business in Canada or for making business investments in Canada.
FEES:
It depends on the scale of the investment. The average cost for a business plan, for a small business in Canada, starts at $30,000 US.
STEP 4 – CONCRETE BUSINESS ACCESSORY TOOLS :
Practical Canadian concrete business accessory tools in order to do business in Canada:

Use of a small office with conference rooms, in Montreal: $850.00 US/month ;
Creation of a small bilingual (English/French) website, of 3 pages with content $5,000.00 US with guidance of a Canadian business development expert who knows about the needs of the Canadian clients ;
Small Google AdWords Canadian campaigns with the assistance of a Canadian expert, receiving the calls and giving the proper information to the Canadian clients and guide them toward the Indian company and investors. Starting at $1,000.00/week ;
Bilingual receptionist in Montreal, temporarily or full time. Starting at $30.00 US/hour for full time ;
A Canadian junior or senior engineer, under the direction of Mr. Daniel Dargis, Canadian senior engineer, president since 1989 and leader of a group of Canadian construction companies in Canada. Starting at $125,000.00 US/year.
FEES:
It depends on the services.
STEP 5 – EDUCATIONAL TRAINING in CANADA – DIPLOMA with Access to a WORK PERMIT in Canada :
A complete VIP program of study in Canada giving access to a work permit in Canada, including:

Study in a school of construction and building design in Canada ;
Improve the knowledge of French and English ;
Apply for a work permit after the completion and success of your work study ;
Have access to practical training in a Canadian company during your program of study ;
Get mentoring and coaching in business and investment in Canada ;
Make business contacts in Canada.
FEES:
Starting at $40,000.00 US/year.
STEP 6 – YOUR BUSINESS PLACE, OFFICE and REPRESENTATIVES in Canada :
Get your business place in Canada, including:

Full package of services, including:

access to video conference calls India-Canada for the follow-up of the business in Canada ;
an office in Canada with postal address and a Canadian phone number ;
a part-time representative in Canada ;
a part-time director in Canada ;
the organization of many business trips to Canada, … .
FEES:
Starting at $150,000 US/year and 10% commission on revenue and sales.
STEP 7 – CREATE, START or BUY a Construction Company in Canada :
Construction Daniel Dargis Inc. helps you get your own construction or real estate company in Canada, including:

Customized training in order to start or buy a company in the construction industry in Canada, such as a:

General construction company ;
Roofing company ;
Doors & windows supplier ;
Flooring finishing company ;
Concrete foundations or concrete repairs company ;
Canadian engineering firm.
FEES:
The Canadian company Construction Daniel Dargis Inc. in partnership with the Indian company GTARB Engineering Pvt. Ltd. provides all the necessary tools and means to Indian investors and business people in order to establish a business, start a and do business in Canada. See also for more information, the website: www.canada-visa-business.com 

Do not hesitate to contact us !