Spanish businesses and enterprises in Canada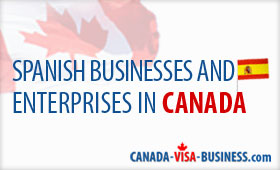 Canada and particularly Quebec have become the target of Spain, Mexico and many other Spanish-speaking countries in terms of business destination for investment, construction, real-estate projects and renewable energy. Between 2009-2012 major projects in Canada were granted to foreign firms and especially to Spanish ones. Construction Daniel Dargis Inc. and its team has several local Spanish-speaking specialists: architects, engineers, modelers, estimators, specialists in communication and marketing and other resources available to help business people settle in Quebec in the field of construction.
Across the country, the 2011 census shows that Canadians have experienced the largest growth of all G8 countries over the past five years. Canada ranked ahead of the United States (4.4%), the UK (3.5%), Italy (3.2%), France (2.8%), Russia (0, 1%), Japan (no change) and Germany (which had a decrease of 0.8%).
For business people Montreal is an ideal commercial platform, in part because Montreal is the most multicultural and multilingual business city in Canada with 3.9 million inhabitants of whom 60% come from abroad, in the Province of Quebec 7.75 million inhabitants within Canada with 34 million potential customers. In addition, Montreal is only an hour's drive by car from the United States and very close to its business capital of New York City. For business people wishing to settle in Canada, Montreal offers significant business potential giving access to a ready and available market and more than 350 million consumers..
But if professionals and businesses from France, Spain, China, Italy, the UAE and other Arab countries such as Algeria, Morocco, Tunisia and even Mexico and the United States have chosen Montreal as a business platform it is not only for access to a market of consumers but also for the opportunity to find experienced local professional resources in their own language. These numerous professionals are graduates, domestic and foreign ones,: architects, engineers, estimators, project managers who speak fluently English, French, Spanish, Arabic, Italian, Mandarin and other languages. These are the resources you will find in the team of Construction Daniel Dargis Inc.
Quebec is the hub of economic relations between Canada and Spain, with more than 40% of their bilateral trade done in Quebec. In 2011, total trade between Quebec and Spain reached $ 1.02 billion, or 432.7 million dollars in exports to Spain and 592.9 million dollars in imports from that country.
There are in Quebec nearly thirty Spanish companies that employ about 600 people. The most important are: Cepsa, Interquisa, Petresa (oil and chemicals), OHL (for the construction of the new hospital in Montreal CHUM 2012-2014), Dragados (for the construction of a highway 2012-2013), Enerfin of the Elecnor Group (renewable energies),Ibermanagement (hotels), Cascajares (food), Abressa (abrassives). Other Spanish companies already present in Canada, in the wind-energy sector, such as Prenealconsider the possibility of coming to Quebec.
Finally, let us note that for real-estate investors and developers of construction projects, Montreal and the Province of Quebec as a whole are full of opportunities to buy, at cheap prices, large portions of land for the construction of real-estate projects and buildings to be converted into condominiums or commercial buildings.
Construction Daniel Dargis Inc. helps business people who wish to realize real-estate projects in Montreal and surroundings as much as companies that wish to establish an office, a warehouse or a factory or a manufacturing plant in order to reach consumers across Canada and North America.
Construction Daniel Dargis Inc. is the only Canadian and Quebec construction company with over 20 years of experience in construction, renovation and management of residential, commercial and industrial projects, to structure and direct a part of its activities specifically to help business people to create, operate and run their own Canadian business related to the construction industry. With its vast experience, Construction Daniel Dargis Inc. serves as a guide, from training through research of building land and buildings to convert, and then on to offering several business solutions for construction and renovation projects, and finally as a support for sales.
Do not hesitate to contact us!