Programs for business people and investors in Canada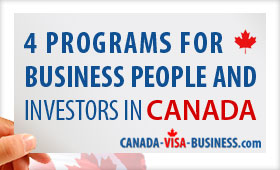 It is now possible for business people who want to do business in real estate and construction and have access to immigration business in Canada to rely on the help of a Canadian construction company. The company is in business since 1989 has developed four programs to help business people from beginning to end in the process: information gathering, visiting Canada, entrepreneurship and projects in Canada .
Here are four support programs from A to Z for business people interested in establishing and operating their businesses in the construction, real-estate projects and renewable energy fields in Canada:
business, immigration, internships and jobs in Canada;
guide for business visitors in Canada;
startup and doing business in Canada;
internships for students and entrepreneurs in Canada.
These 4 programs were put in place by the Canadian construction company ''Construction Daniel Dargis Inc.'' for business people who want a variety of quick and practical solutions, such as:
Doing business in Canada in construction and real-estate projects, and/or;
Have access to immigration to Canada;
Since 1989 Construction Daniel Dargis Inc. helps individuals, real-estate investors, developers and general contractors with the installation and management of projects and construction sites and residential and commercial renovation.
For more information visit the websites: Construction Daniel Dargis Inc. and MontrealCIE