Office for rent in Canada for business and immigration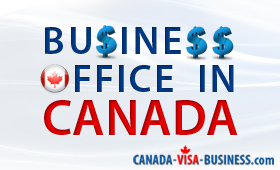 For a business person wishing to do business in Canada and/or have access to immigration, getting your business office in Canada or share one with a Canadian company is an excellent start. To have an office in Canada it is not necessary to buy a property, purchase office equipment or immediately hire a large number of staff. It is possible to have your own office and place of business in Canada in a simple and affordable way and this will greatly help your business and/or immigration application file by :
Demonstrating to Canadian governments your serious approach to business with
concrete actions ;
Facilitating your business relationships and your quest for investment opportunities ;
Organizing a few business trips to Canada ;
Collecting essential practical information to establish your business in Canada ;
Representing your company, your products and services by local representatives who
speak your language as well as French and English, the official languages of Canada ;
Mr. Daniel Dargis, engineer, President of Construction Daniel Dargis Inc., with his team of 15 associates in engineering, construction, business law and real estate, is the only Canadian company in construction and engineering that helps business people and foreign companies wishing to establish themselves in business in Canada.
A business office to improve your application file with Canadian governments
Governments at the national and provincial level will favorably take notice of all kinds of approaches and investments in Canada that are good for the Canadian economy. These efforts may be realized through :
The opening of a business platform in Canada by your own means or in partnership with
a Canadian company ;
Job creation in Canada ;
Actions aiming at helping Canada in the export sector ;
Contributing to the provision of new technologies and know-how in Canada.
Establishing your business platform in Canada is possible with Construction Daniel Dargis Inc. which offers business people to obtain all the benefits of a business office in Canada and a team experienced in practice, by providing a :
Furnished office with computer equipment ;
Conference room ;
Secretarial, accounting and legal affairs staff ;
Marketing team ;
Multilingual representatives in engineering, architecture, design and construction.
Office for rent in Canada to facilitate your business dealings
Your business dealings are facilitated by a Canadian company with a solid practical business experience in Canada and having a foothold in Canada, with a furnished and equipped office in Canada, with an official postal address and Canadian multilingual skilled professionals who are responsible for :
Welcoming the Canadian business people that you contact from abroad ;
Establishing contacts for you in Canada ;
Information gathering ;
Organizing your business visits to Canada.
Since 1989, we have been hosting, temporarily or permanently, with a Canadian team of managers, marketing specialists, building technicians, engineers, architects and general contractors, your new Canadian business in Canada until you have more autonomy. We are the only Canadian company in construction and engineering to offer these great and unique services in Canada.
An office of experts in Canada to gather information for starting a business in Canada
Before even planning to do business in Canada, to organize a business trip or establish business contacts, a wealth of information is needed in order to make an informed decision.
Our company, with a practical field experience in Canada, keeps you informed with explanations and concrete and practical information from the business community in Canada.
Sharing an office in Canada with a Canadian company
A Canadian construction, engineering and business company in Canada offers its staff and office for business people and companies from outside Quebec and Canada. Therefore, it is now possible to hire the services and benefit not only from an office in Canada, but also a competent, experienced and multilingual staff without having to make a long-term commitment and make major expenditures for rental of premises, purchases of equipment and employment of staff.
Do not hesitate to contact Mr. Daniel Dargis, engineer, President of Construction Daniel Dargis Inc., to learn more about the rental services of a business office in Canada, qualified personnel, establishing a business, about plans of access to business immigration and looking for opportunities in real estate and construction in Canada.