Marketing construction in Canada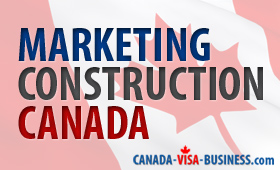 Doing business in Canada, in the construction sector, certainly requires a business plan, good contacts with experience in the construction industry in Canada, excellent preparation, a platform for representation in Canada, but also a great marketing strategy in construction in Canada and daring. Marketing Construction techniques in Canada are varied and must be adapted not only to the targeted customers and types of projects, but also to investment capital involved. Nowadays web marketing plays an all-important role and the business people must have a team that has mastered the modern techniques of research of customers and sales. Web marketing caters especially to the targeted customers who do already have needs and it initiates search itself by keywords. Savvy business people will not be limited only to web marketing. To succeed in real estate in Canada one must be innovative and bold in marketing. Business people who want to sell projects will use the means not only to advertise their existing buildings, products and services on the web or by signs on the street but also by knocking on the door of owners of land and buildings even if these properties are not yet for sale. With boldness, preparation and reaching out to owners of real estate and land, business people greatly increase their chances of finding business opportunities in Canada. These owners will then become potential sellers of real-estate opportunities or buyers by offering them real-estate custom fixtures and custom projects.
The construction and marketing consulting business Construction Daniel Dargis Inc. helps business people not only to establish themselves in Canada with their new Canadian construction businesses but also helps them in marketing construction in Canada in order to:
Conduct marketing in construction and real estate ;
Get customers ;
Find land and buildings ;
Set up projects and feasibility studies including: research regulations, sketches, estimates and permit application ;
Make the plans ;
Obtain permits ;
Carry out construction contracts.
Ingredients of the marketing industry in Canada
Essential ingredients in marketing construction in Canada are needed to find customers and sell construction projects in Canada, such as :
Have a place of business ;
Owning an Internet presence ;
Have a competent team in place in Canada, preferably bilingual in Quebec ;
Have an experienced Canadian business partner in the construction industry with a multi-disciplinary team of engineers, architects, Canadian subcontractors and of course in marketing ;
Have a monthly budget for marketing.
Construction Daniel Dargis Inc. helps business people by providing the place of business with office equipment and by establishing the marketing framework including: developing websites tailored to the products and services of business people, provide the necessary professional resources, engineers, architects and subcontractors, find customers, set up real-estate projects (sketches, plans, estimates and feasibility and market studies) and make sales.
Marketing Construction Techniques in Canada
Canada is a country with people enjoying a high standard of living. Real-estate projects are generally projects requiring large investments and it is necessary to do business in the construction industry in Canada to be at the forefront of information technology in order to be able to reflect a serious image and confidence.
Buying a property or a real-estate project is for most people the most important purchase they will make in their lives. That is why it is necessary to emit an image of confidence based on the business reputation at the local level in Canada. This reputation can be obtained by entering into a service agreement with a Canadian entrepreneur such as Construction Daniel Dargis Inc. who is willing to help business people giving them the benefit of his experience, his business contacts in the construction sectors in Canada and with marketing experience in Canada.
Construction Daniel Dargis Inc. has a marketing team using different techniques to reach customers. These techniques call upon specialists in :
Creation and design of websites ;
SEO for the Web ;
Network of salespersons to sell projects of renovation and construction ;
Engineering, design and architecture ;
People looking for land and buildings ;
Assemblers of projects ;
Managers and administrators of projects.
Do not hesitate to contact Mr. Daniel Dargis, engineer, President of Construction Daniel Dargis Inc. to develop your business and marketing in Canada in the construction and real-estate sector.