Internships in enterprises in Canada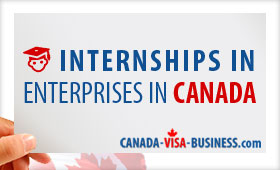 Objective :
This program aims at supporting students along with their curriculum in Montreal to help them invest and manage their own part-time construction projects.
Clientele:
University students already accepted in one of the universities of Montreal, motivated, having sufficient financial means to invest themselves in real-estate projects and able to handle parallel studies and work. This with the help of Construction Daniel Dargis Inc. This will allow them:
To acquire practical experience in managing a construction company in Canada;
To enjoy a considerable lead over business-partners students;
To apply for permanent residency and immigrant status in Canada;
To generate profits and pay their own studies by the proper management of their businesses;
To learn French and English more quickly;
To gain self-confidence in business and in the future to be better prepared in their careers and take over the management of their family business.
Selection criteria:
Be accepted by a University in Montreal, Canada;
Having the financial means to invest in real-estate projects;
Be motivated;
Able to handle multiple tasks well simultaneously. This in carrying out well one's curriculum while supervising construction projects.
Included:
Customized support program based on Program # 3 above.
Do not hesitate to contact us !