How to start a construction company in Canada?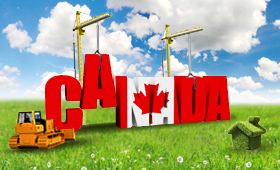 The best way to start a Canadian construction company is with the help of a local Canadian construction company such as Construction Daniel Dargis Inc. based in Montreal, Quebec, Canada. This is a company of consultants, engineers and builders in Quebec province in Canada, that provides construction projects to Canadian businesses and helps foreign businessmen to start their own construction companies in Canada, obtain projects and build real- estate projects by themselves. To start a construction company in Canada several things are necessary.
Getting the right information is essential
To start a construction company in Canada requires more than financial resources. One must first get the right information and Canadian experience in order to use the information well, such as:
The construction law, real-estate law and business law;
Where, when and how to obtain land and buildings at good prices that allow to realize lucrative projects?;
How to obtain a license for a general contractor in construction?;
Knowledge of the Canadian Building Code;
The management strategy to be adopted depending on the scope of the project. Hiring manpower or subcontractors? Act as a property developer in the beginning or as a general contractor?;
How to finance projects using a minimum amount of personal funds?;
What are the tastes of Canadian consumers in real-estate projects?;
How to find customers and sell projects?
Information is certainly the most important element. Because, although business people have great financial resources, if they are ill-informed or ill-advised in their investments, if they do not know how to look for the right opportunities, how to evaluate and manage projects following Canadian standards, then their projects will not be profitable. However, an investor with a minimum input, if he has good advice and the opportunity to find and purchase land and buildings at good prices while having the means and the knowledge to complete projects in Canada, then he will have all the chances on his side to succeed.
Reaching out to customers
Good opportunities in real-estate, in general, are not obtained by real-estate agencies or advertisements. In most cases it is necessary to reach out to customers by contacting them and asking them if their property is for sale and then negotiate with them even before they got the idea to start selling. This requires having marketing audacity and appealing to real-estate experts in Canada, knowledge of the terrain, the construction business and negotiation skills.
Construction Daniel Dargis Inc. helps investors and business people to start a construction firm in Canada, find business opportunities and manage real-estate projects.
Do not hesitate to contact us!