China starting up and doing business in Canada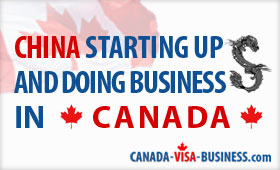 Judging by the increasing activity of China on Canadian soil it sees in Canada and especially in Quebec huge business opportunities. Construction Daniel Dargis Inc. in partnership with its collaborators in immigration and business law, offers its assistance to business people and Chinese companies who wish to settle in Quebec in the areas of construction and real-estate projects. Construction Daniel Dargis Inc. has developed unique formulas, innovative, structured and tailor-made from A to Z that cater to business people and companies from assembling the file leading to their arrival in Canada, through the search for land and buildings going as far as the management of real-estate projects and even the creation of their own construction company.
In recent years Chinese companies have been operating large Canadian natural resource deposits to fuel the explosive growth of their economy. Quebec is rich in resources and the demand for raw materials is growing in many emerging countries such as China and India, members of the BRIC (Brazil, Russia, India and China), which attracts many investors here. A mining project involves investment of hundreds of millions or even billions of dollars, something that Canada and Quebec cannot assume alone, even if the Quebec government will invest 1,191 million $ in infrastructure development over five years and provide $ 500 million for equity investments in projects on that territory. Foreign capital is thus needed and it is crucial for Quebec to attract foreign investors. Chinese companies have answered the call of Quebec well.
Mining investments of the Plan North are expected to exceed 30 billion $ within 25 years. In the medium term 11 projects will be realized totaling close to $ 20 billion $ to create 11,000 jobs during construction and another 4,000 jobs annually maintained in connection with mining and processing plants. Chinese companies alone account for more than 50% to cover 20 billion $ of investments for the Plan Nord over the medium term, on only 2 of the 11 projects that are:
The Otelnuk Adriana Resources project : The largest mining project in Canadian history with a centenary potential for exploitation of iron. The Chinese company Wisco will be funding almost all of this adventure that will require an investment of between 10 and 13 billion $;
The Chinese company Jilin Jien Nickel Industry : $ 800 million to operate a nickel deposit at the northern tip of Quebec.
The Chinese are however not only interested in the Plan Nord. Other Chinese business people with lots of capital at their disposal purchase plentifully in Quebec: farmland, farms, land for future building projects, dwellings to renovate for conversion into residential condos or commercial lofts. It is at this level that Construction Daniel Dargis Inc steps in to help these investors and Chinese business people to:
Assemble and customize their files to facilitate their coming to Canada as business people interested in the field of construction and real-estate projects. This takes place through the participation of expert collaborators in immigration and in business law;
Give them basic training related to the field of construction in Quebec to understand the basic issues: regulations, the building code and standards of construction, administration, and project management.
Find business opportunities : purchase of land or buildings;
Do feasibility studies;
Build, renovate or manage their projects;
Create their own construction company to increase their autonomy;
Assist them in the marketing and sale of their projects.
Finally, let us note that for real-estate investors and developers of construction projects, Montreal and the Province of Quebec as a whole are full of opportunities to buy large portions of land at low cost for the construction of real-estate projects and buildings to be converted into condominiums and commercial buildings. For Asians, the Montreal surroundings are a bargain. They look at the possibilities and cannot believe their eyes. Quebecers sell hectares of land at 7 $ per square foot, or about $ 70/m². This is about 10 times cheaper than in Vancouver or Paris!
Construction Daniel Dargis Inc. helps business people who wish to realize real-estate projects in Montreal and surroundings as well as companies that wish to establish an office, a warehouse or a processing or manufacturing factory in order to reach consumers across Canada and North America.
Construction Daniel Dargis Inc. is the only Canadian and Quebec construction company with over 20 years of experience in construction, renovation and management of residential, commercial and industrial projects, to structure and direct part of its activities specifically to help business people to create, operate and run their own Canadian business related to the construction industry. With its great experience, Construction Daniel Dargis Inc. serves as a guide from training through research of construction land and buildings to convert, and then offering several business solutions for construction and renovation projects, and finally as a support for sales.
Do not hesitate to contact us!